Cisco Meraki WiFi Troubleshooting. Understanding Cisco Meraki Troubleshooting – RF Spectrum overview.
In this post we want to talk about Meraki's RF Spectrum tool, it is a built-in tool to help you monitor and troubleshoot WiFi-related issues. We have written extensively about the Wireless spectrum, WiFi best practices, how to improve WiFi performance, and how to secure your wireless network. This time we want to show you one of Meraki's monitoring tools to help you analyze your WiFi performance. – "Cisco Meraki WiFi Troubleshooting in New Jersey" -.
Before we go any further, it is important to mention that not all Meraki Access points offer a dedicated security radio feature built-in for visual spectrum analysis. It is standard in most models, but you can read the access points documentation to see if yours has that dedicated radio. Another thing that is important to mention is that if the access point supports that feature, then there's no additional cost or licensing associated with it.
Meraki APs with a dedicated security radio feature built-in visual spectrum analysis capabilities. They capture "raw" wireless frames in the spectrum covering the 2.4 GHz and the 5 GHz bands. The APs scan for both 802.11 (other APs) and non-802.11 sources of RF interference (eg. Bluetooth headsets, cordless phones, and microwaves).
All Meraki APs also scan for interference data, which is then fed into the Meraki Auto RF planning algorithms to determine the optimal channel plan (if the auto-channel selection is enabled) and transmit power settings. Auto-channel selection is enabled by default and can be changed on the Radio settings page under the Configure tab. That is why you need to perform a Wireless survey to properly plan your WiFi deployment for best performance, which includes planning for radio band, channel allocation, power settings, etc.
Real-time channel utilization scans can be run from Wireless\Monitor\RF Spectrum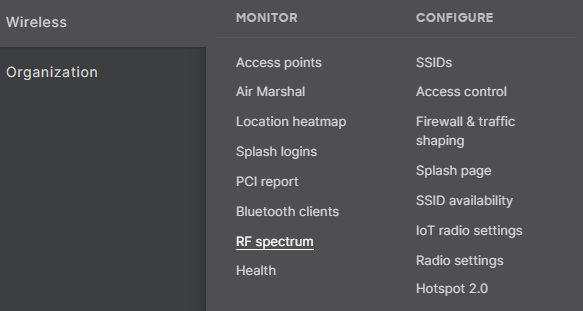 Meraki RF Spectrum overview does not paint the whole picture. Wireless Experts like us take a deeper look into other areas of the Spectrum and configuration – Cisco Meraki WiFi troubleshooting.
Notice how the Spectrum overview window shows you the spectrum performance for each access point. Something to keep in mind is that It shows you average channel performance per Access Point, per channel. For instance, if you look at the first listed Access Point (labeled Test AP- MR36) you'll notice under the channels used column that channel 11 is used for the 2.4 GHz band, and channel 100 is used in the 5 GHz band. The other two columns show you the average utilization for those channels at the specific time of the capture. As you can see other access points may be using different channels, and display different utilization values for the channels.
You can watch a video description on our IT Best Practice youtube channel.

"Every enterprise-grade WiFi vendor has similar solutions, you can use the knowledge in this article Cisco Meraki WiFi troubleshooting and apply it to your specific environment"
To see more detailed information about the Wireless Spectrum you would select one of the access points. Once the access is selected you will see a Spectrum overview as seen by that specific access point. Notice how you have different colors, the "stronger" the color the higher the levels of interference. Red means consistency (high level) of interference, then you see yellow, orange all the way to blue. The point is Red means interference.
Interpret the Access Points RF Spectrum information, it is a tool to provide information that needs to be analyzed along with other data. JDTechSolutions is a WiFi expert helping companies improve WiFi performance.
Another very important item is that Spectrum overview is for the entire band you're monitoring, not just the channels the access point is broadcasting on. Notice how it shows the access point name (Test AP-MR36), and then shows you the channels the AP is working on – those are the channels used for SSID broadcast, the Spectrum analysis is for the 2.4 GHz band as seen in our example. If you need to see the spectrum on the 5 GHz band you simply select the 5GHz option up on top.
The lower graph is a waterfall view, which is simply a spectrum capture of 3 minutes.

There's another useful monitoring graph that shows two main items, the Utilization and Interfering APs. They are both self-explanatory. The Utilization shows you channel utilization at that given time, in our example below, we see Channel 11 is utilized (busy) 50% of the time, which means that only the other 50% of the time it's available for communication. You can see how useful this information can be in troubleshooting Meraki WiFi issues in your environment.

The other option on that menu is the Interfering APs. What is important here is for you to pay attention to the dBm level, the lower the value the closer the neighboring access is to yours. Also, if that access point is found in your network it is displayed under the "On LAN" option. Keep in mind that it'll show the APs only if it sees them based on the routing information, if you have other APs behind a firewall they may not show here as "On LAN".

Now that you can see the information displayed under RF Spectrum overview can you monitor and get started in the troubleshooting process. Something you have to keep in mind is that the spectrum information provided by the access point does not paint the whole picture to identify and troubleshoot a WiFi communication problem. You may have to use other tools and analyzers to get to the root of the problem, or you can contact Cisco Meraki WiFi experts like us to help you identify wireless problems and help you improve your WiFi performance.
We are WiFi Experts in NJ providing resilient, secure, and cost-effective WiFi Services and solutions. Our WiFi solutions and services include WiFi surveys, WiFi planning, WiFi implementation, WiFi Administration, and WiFi as a Service. We hope that this WiFi Best Practice article helps in the administration and improvement of your Meraki WiFi network.
Contact us at [email protected], 888-580-4450, or www.jdtechsolutions.net to learn more about our WiFi solutions and services.
For New York Network and Desktop Services visit Precistek.com