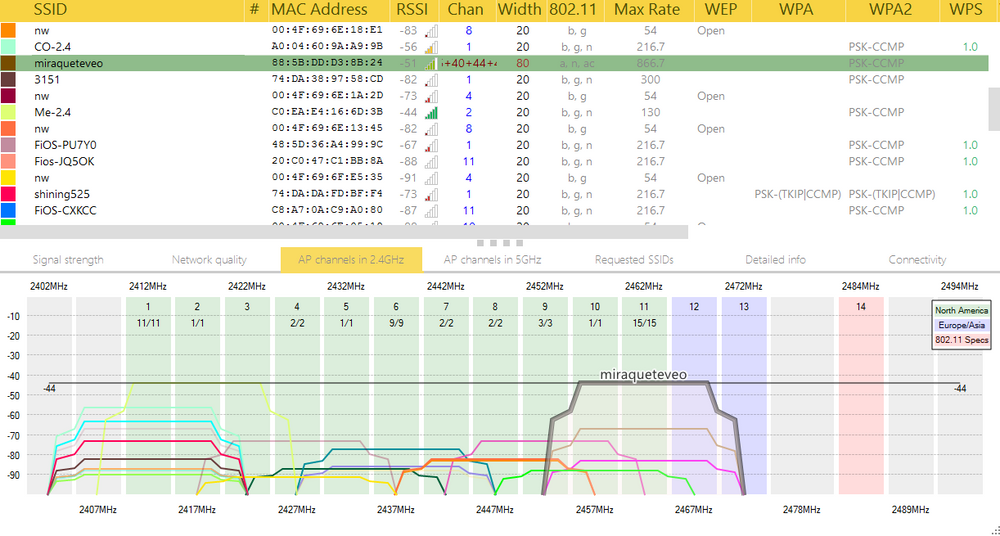 It's been said that WiFi Networks configuration is an art more than a science. We agree with it, as experience has taught us that a proper WiFi implementation solution requires a deep understanding of technology, use of WiFi network, and physical environment where the WiFi Network will be installed. Over the years, we have installed hundreds of WiFi Networks solution, big and small, and each of them has had its unique challenges during and after the installation. As we became Wireless Network Experts serving NJ and NYC businesses with so many deployments and configurations, we developed our design best practices we'd like to share with you. Hopefully, they can be helpful to you as you plan a Wireless Network for your organization.
The core and fundamental concept of WiFi is the broadcast of the network signal over the radio frequency that in and of itself does not guarantee a reliable Wireless network configuration. All network pieces, including the WiFi, must work in harmony for a proper WiFi implementation to function correctly. In this article, we'll concentrate on those related to WiFi.
1. Wireless Assessment.
As the saying goes, not having a plan is planning for failure, that principle also applies to WiFi designs, and part of the plan is performing a wireless survey. There are different types of surveys, and they each cover various aspects of the WiFi design, including SNR, predictive coverage, and channel allocation. Another critical part of the WiFi survey is performing a spectrum analysis to help determine if WiFi and non-WiFi interference are present.
2. Access Points placement.
The access points placement is an essential part of the WiFi deployment. The location is determined during the WiFi assessment and network planning. Whether they're ceiling-mounted, wall-mounted or a combination of both for the deployment, access points placement has a significant impact on how the RF signal propagates. Many AP manufacturers offer free basic WiFi network planning tools that create predictive heat map coverage; in our deployments, we use professional graded tools with more features and better predictive algorithms.
3. Choose the right Access Points.
Choosing the Wireless Access point is imperative for WiFi deployments. It's not only the brand of the AP solution but also the model of the AP. The good news is that you have many vendors to choose from; you have well-known names such as Cisco, Meraki, Rukus, Aruba, Extreme, Cambium. And the SOHO type of solutions such as Ubiquity UniFi, Netgear, TP-Link, Zyxel. After selecting a vendor, you need to determine what AP model will suit the network needs. Will you go with APs with 2x2x2, 4x4x4, 8x8x8 spatial streams? Do you require a third radio for WIPs? Do you need Bluetooth?
4. Choose the Right Antenna type.
Most, if not all, APs with internal antennas use omnidirectional antennas, which propagates the RF signal in all directions perpendicular to an axis. There are times when that type of signal propagation does not provide adequate radio cover due to physical obstacles, floor layout, etc. That's where external antennas come into play, and as you can imagine, the AP should be able to support those antennas. Remember that external antennas should be compatible with the APs.
5. Wireless Bands.
Will you use the 2.4GHz, the 5GHz, or both for your deployment? When deciding on it, consider the type of wireless clients the network is supporting. We always conduct a spectrum analysis during the WiFi assessment phase that shows us an accurate picture of the RF medium and channel allocation and utilization to help us determine the proper band and channels for the deployment.
6. WiFi usage.
When planning a WiFi network, consider the type of applications clients will be using when connected to the network to calculate the traffic load, which helps determine whether you need to plan your network for coverage or capacity.
7. Maximum Concurrent connection.
Access Points have a maximum number of concurrent connections they can support; more connections usually equal more traffic and load on the access point, but that's not always the case. Take into account the 2 to 1 ratio, meaning that there's an average of two devices connecting to the network for every user.
8. Test Configuration during its busiest time.
We can plan and estimate a perfect WiFi Solution but the true test happens when usage is at its peak. Let's say you did your due diligence with the assessment, AP location, usage, users, etc but the truth is we can only estimate performance based on science and experience. You'll always need to tweak the WiFi network as you see how it performs during its busiest time.
9. Think about security.
A secure Wireless Network is more than having a strong password, considering a holistic security approach by following best-practice that adapt to your network environment. Security features include traffic segregation, WPA2\WPA3 encryption, Radius 802.1X authentication, Wireless Intrusion Prevention System  (WIPS) implementation.
10. Verify other network services support the WiFi.
WiFi is just a component of your network of network infrastructure, and as such, it relies on and supports other network services. When designing the WiFi network, you must verify that DCHP and DNS configuration will support the wireless solutions.
A proper WiFi network requires planning and highly skilled experts for proper implementation,  JDTech is the leader WiFi installation company in Northern NJ implementing highly efficient WiFi solutions to businesses and organizations across various industries and sections. We're experts in WiFi planning, implementation, and support. Contact us at 888-580-4450 or [email protected] to learn more about our services and solutions.