I came across TRK a couple of years ago and I must confess, it's a solid, simple to use, and intuitive tool that comes in handy for everyday tech support. The tool allows you to reset Windows passwords, clone computers over the network, run file servers, ran antivirus, run ssh servers among other options. It has become part of my support arsenal and I'm sure that it will handy to you too.
You can go to www.trinityhome.org to learn more about the project, if you think it's useful and end up taking advantage of it consider making a donation, they do a pretty good job keeping it relevant and up-to-date, a real shot out to the folks maintaining the project. One more quick thing, TRK is based on Linux OS, even though it supports a huge hardware variety you may encounter that some hardware is not compatible with it, I've seen a couple of Dell and HP computers not compatible with it.
So let's proceed to reset a password:
Difficulty 1-10: 3
Technical skills needed: 3
The following must be met:
Physical access to the target PC
Boot up from an external source such a USB, CD, or network.
Windows Desktop Environment XP-7
Only local accounts password can be reset
Here we go…!
1. Bootup up your computer with the TRK. The latest version by the time of this post is TRK 3.4, once TRK is loaded it'll display the Main menu from which you can dig into the other options.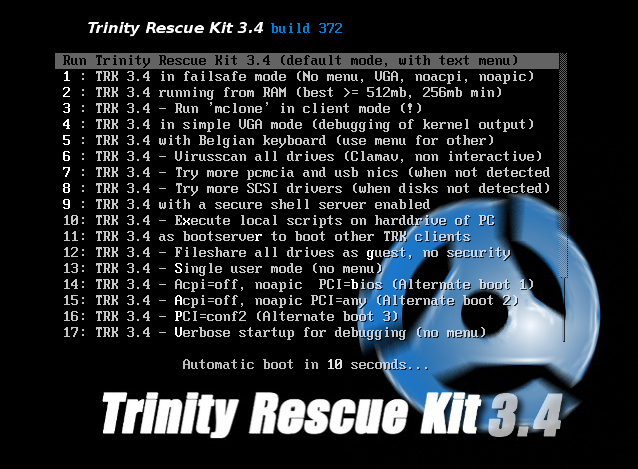 2. Select Windows Password Resetting to go into the password resetting options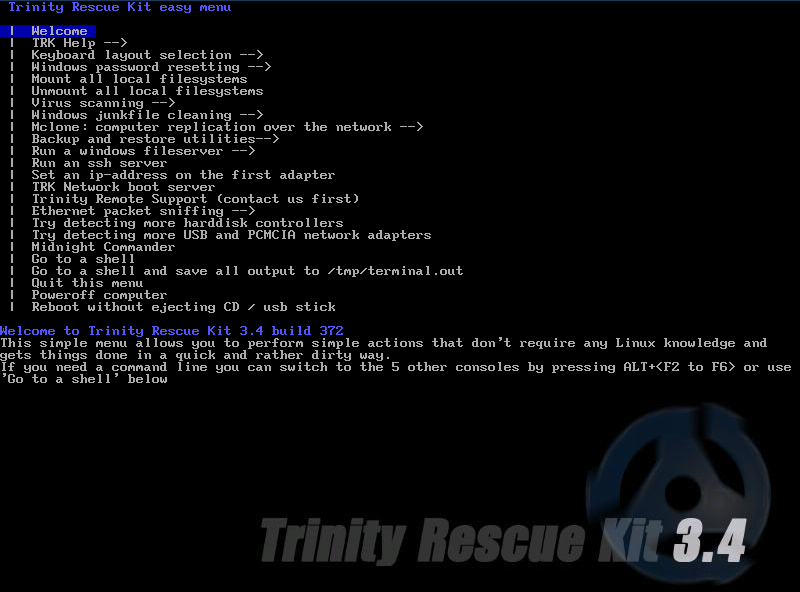 3. The password resetting menu offers different options for you to choose from, I always use the Interactive winpass options because it gives the ability to view the user accounts settings and manage the accounts as I see fit. The file systems will be mounted and the registry loaded. If you have a single boot computer, meaning only one OS you can go ahead and hit Enter to accept the default Windows installation, otherwise select the right installation to mount. The Windows registry is loaded in memory and the SAM policy limits are displayed.

4. Select option 1 – Edit user data and passwords. TRK will display all user accounts and their status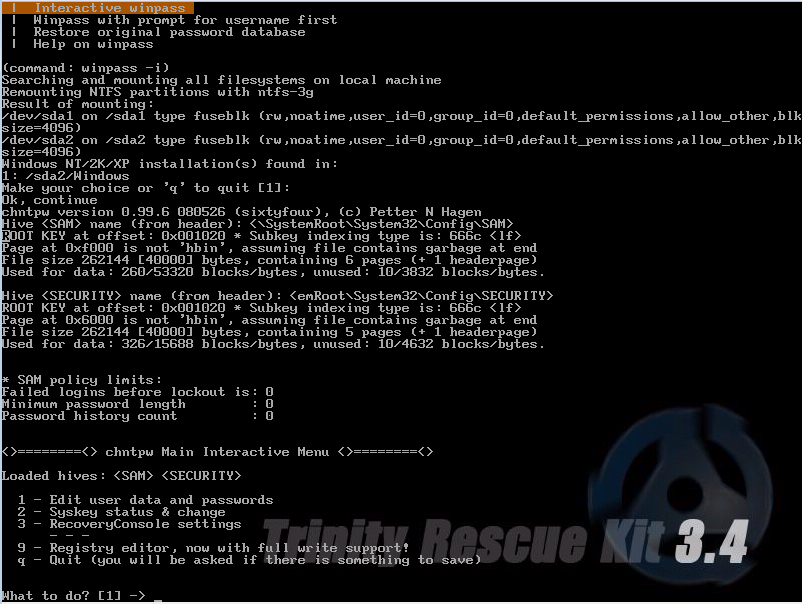 6. Select the user account to modify, either by typing 0x (the RDI for the user name, listed on the first column) or the user name exactly as it's displayed.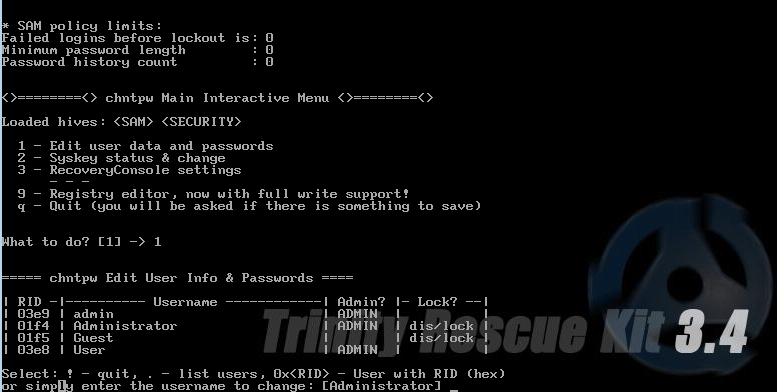 7. In the user's property windows select the option to Clear or Edit the password. Reset or Edit the password as you wish. Notice you also have the option to grant a user administrative privileges and unlock user accounts. Pay attention to the "Edit new password" option, it has been known to have some issues with some XP and Vista systems. I've done this a hundred times and only a handful of times have I encountered registry corruption issues which I was also to fix doing some windows troubleshooting.
8. Once the password was successfully cleared or reset you can exit the menu by typing the "!" sing and pressing enter. You can then Quit all menus, restart the computer, and log in with the new credentials.

As you could see the process of resetting a Windows password is fairly easy with TRK, it has some limitations but they are outweighed by the benefits it offers. TRK will not work to reset Mac or a Linux system because they are a completely different OS architecture but there are some commercial tools available for Mac you can use to reset a forgotten password.
Keep in mind that TRK modifies the system registry, as Microsoft always says: do it at your own risk. There's always a chance of something getting corrupted even if you follow the instructions step by step, that's simply the Microsoft way.
I hope this post has been useful to you, happy password resetting day!!
P.S Knowledge is power, now that you saw how easy resetting a password is the security bug in you might be thinking of ways to protect yourself against unauthorized password settings and system access. We'll cover that in another article.
About JDTech: We are a technology service provider specializing in Desktop, Network, Cloud Computing, and Information Security services. We've been helping businesses and individuals bring their technical infrastructure under control and management by creating customized solutions that adapt to each business. Located in North Bergen NJ we service all Northern NJ and NYC. Visit our website for more information at www.jdtechsolutions.net or call us at 888-580-4450 to schedule a free technical consultation.