As WiFi and Network Experts providing Wireless installation services in New Jersey and New York for the past twelve years, we understand that some businesses only require basic Wireless network connectivity services without the extra security services, network integration, and analytical services offered by enterprise-based WiFi solutions such as Meraki, Cisco, Aruba, etc. Some of the common enterprise-based WiFi services include advanced analytics, layer 3 and layer 7 firewall services, advanced DNS security, Wireless Intrusion Prevention System (WIPS), hardware warranty, technical support services, 3rd party authentication services, built-in spectrum analyzer, Hot Spot 2.0 services, IoT services, etc, the list goes on depending on the solution. All those advanced WiFi features of enterprise-based WiFi solutions are excellent services – and sometimes required- in the enterprise. As you can imagine, they come with a high price tag and licensing fees that are not appealing to companies needing a basic, affordable Wireless Network connectivity solution.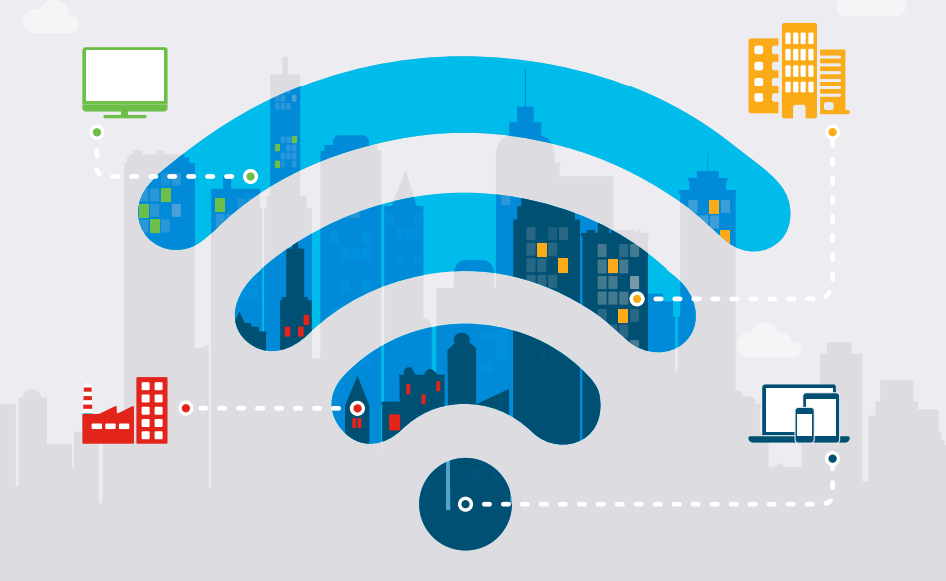 Understanding our customers' needs for reliable and affordable WiFi network solutions that provide basic Wireless connectivity but still deliver commercial-grade solutions with cloud integration led us to find us WiFi alternatives to Cisco, Meraki, and Aruba Solutions. That's why for the past twelve years, we also offer Wireless Network solutions from Ubiquiti UniFi, Cambium Networks, EnGenius, and Netgear. To find reliable, Affordable WiFi Network Solutions, we spent countless hours researching and testing their WiFi solutions to ensure they offered more than an affordable price, but that also the WiFi and network solutions are reliable, scalable, and integrate well with other vendors. After over twelve years of experience in their technology and countless Wireless implementations, we can say that they are a reliable, cost-effective alternative to enterprise-grade WiFi solutions.
You also may be interested in reading about Multi-SSID deployment best practices in this article.
Keep in mind that they're not considered enterprise-grade WiFi solutions do not mean that they provide lower performance equipment and Wireless Services. The key point why these solutions are a good option is because they don't carry the extra services and subscription enterprise-grade WiFi solutions do. As WiFi Network professionals in New Jersey, we never recommend or implement poor quality network solutions simply to offer an affordable solution. We thrive in providing highly efficient and cost-effective WiFi solution services that fit the specific requirements and customers' needs, even when those solutions are considered affordable WiFi Network Solutions.
With that being said, let's explore some of the features of affordable WiFi Network Solutions.
Ubiquiti UniFi WiFi Solutions.

Ubiquiti is a network company that designs network solutions services such as switches, firewalls, IP cameras, and WiFi equipment. They present themselves as an enterprise-based solution, but they are designed for small and medium-sized businesses. When it comes to WiFi services solutions, they offer various Access Point solutions for indoor and outdoor deployments. The hardware equipment is affordable, and they have dynamic engineering and research and development teams always creating WiFi solutions with the latest standards. The management controller is free, or you can opt for the Cloud-Key installation. We also like the centralized administration of the switches, IP cameras, VoIP phones, and wireless Access Points. Hardware licensing is not required for cloud management, and the level of direct technical support from them is almost non-existence. One can assume that that's one of the main reasons why they are an affordable WiFi solution.
Ubiquiti Point-Point, Point-to-MultiPoint Solutions. Unlike the indoor network and wireless services solutions, Ubiquiti's P2P and P2MP solutions are considered enterprise-grade solutions. They offer a vast portfolio of antenna types and solutions in the 5 GHz and 60 GHz bands at reasonable prices, making Ubiquiti a completely affordable WiFi network solution. It is common for Wireless Network Installation Companies in New Jersey like us, to deploy enterprise-grade WiFi solutions like Meraki for indoor and outdoor Wireless network deployments and configure Ubiquiti or Cambium Networks for Point-Point wireless solutions between remote sites. Or depending on the deployment, we can also implement a complete Affordable WiFi Network Solution implementing Ubiquiti's indoor access points, outdoor access points, and point-to-point solution.
We see Ubiquiti WiFi solutions as a good fit for budget-conscious Wireless Network deployments and as a good solution for Point-Point WiFi deployments. Their portfolio keeps expanding and they stay up-to-date with the latest Wireless technology. You can't go wrong with Ubiquiti if you're looking for an Affordable WiFi network solution that it's simple to manage and deploy. We're are WiFi experts in New Jersey. After performing a Wireless Network Assessment and learning about your WiFi connection needs, we can determine whether Ubiquiti is the Affordable WiFi network solution for your environment or if another vendor would be a better fit for you.
Cambium Networks.
Cambium Networks has been a leader in WiFi world for many years, and they slowly gaining ground in the US market. Their Wireless Network solutions are advanced, reliable, and cost-effective. We classify them as Affordable WiFi Network solutions because their hardware and support prices are lower than the well-known enterprise-grade counterpart. As WiFi Network installation company in NJ we test Wireless and Network hardware from different vendors to evaluate if offer reliable WiFi and network technology, we can say that Cambium is definitely a high-end WiFi and Network vendor offering affordable WiFi Network Solutions. They excel in Point-to-Point, Point-to-Multi-Point, Wireless backhaul solutions, and indoor and outdoor WiFi solutions. Similar to Ubiquiti, they offer a variety of IP camera solutions and a cloud-based management portal for all your devices.
Cambium Networks Point-Point, Point-to-MultiPoint Solutions
Cambium's proven Point-to-Point (PTP) series solutions are deployed worldwide, serving highly critical applications in formidable environments for the world's most demanding users. With best-in-class real-world performance and FIPS 140-2 approved security available for government and military applications, they are a leader in the P2P and backhaul Wireless solutions. Because of its high-quality hardware, technology, and technical support reliable support, the cambium network is the main P2P solution we deploy for distributed WiFi deployments.
Learn more about Outdoor WiFi solutions best practices in this article.
Cambium has a large portfolio for P2P and backhaul Wireless solutions. Their licensed Microwave backhaul solutions h products work on the 60GHz, 4.9 GHz, and Sub 6 GHz bands. For multi-gigabit speeds, they offer the PTP 850 working on the 71-86 GHz band that offers up to 10 Gbps connection.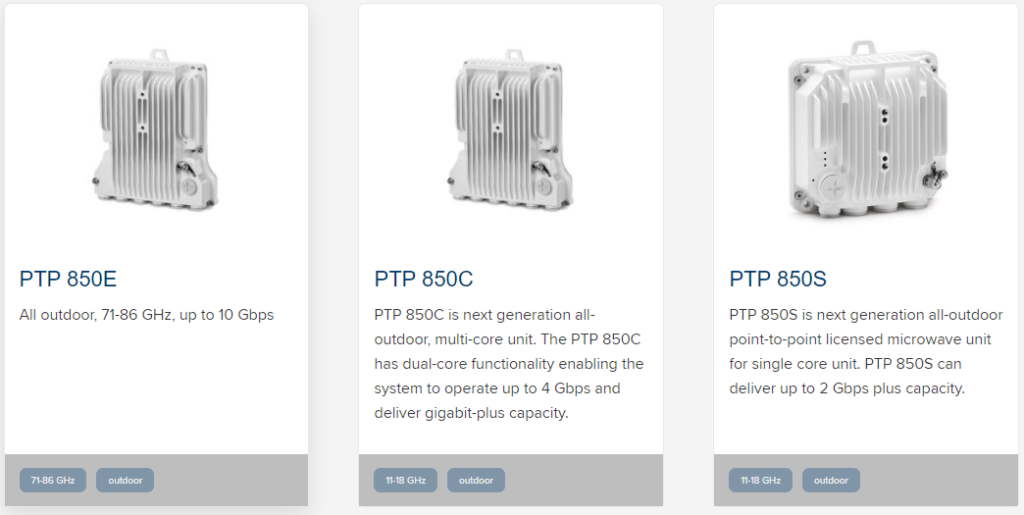 We see Cambium Networks as a real enterprise-grade Affordable WiFi Network Solution that competes with the big names in the network realm, from indoor, outdoor, to the PTP solution their WiFi solutions offer reliable and cost-effective solutions to businesses and organizations looking for a reliable Wireless service.
NetGear.
Netgear has been a networking household name for years. They were one of the leaders that helped WiFi become a standard network technology in the early days. They dominated the home user and SOHO market for one point but failed to expand to the enterprise. They do have other technologies with a big-business footprint such as NAS, and switches, but their reach is small compared to their competitors. We compared Netgear to Ubiquiti UniFi solutions because they're Affordable WiFi Network Solutions that provide basic and reliable Wireless connectivity. As a WiFi Network installation company in NJ, we recommend NetGear WiFi solutions for basic wireless deployments that don't need the advanced analytics or system integrations of the enterprise-based solutions.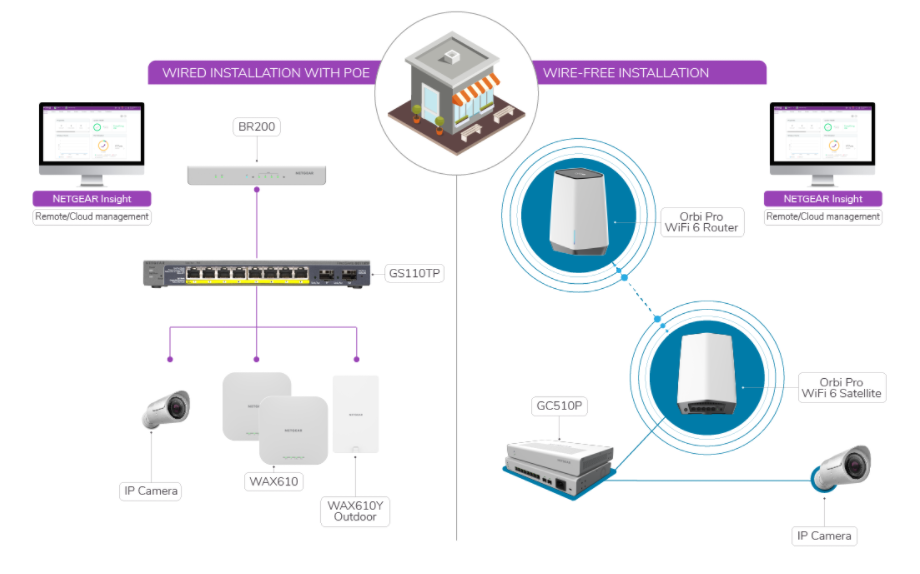 NetGear's network business portfolio is designed to address the needs of the SMB, they offer Access Points, Switches, IP Cameras, and a cloud management portal called NetGear Insight. Every NetGear WiFi deployment we have implemented has proven to perform its functions as intended. NetGear Wireless is an affordable WiFi Network Solution that WiFi Network Professionals in NJ consider when planning simple WiFi projects.
Conclusion
Affordable WiFi Network Solutions should not be solutions based on the price tag alone, but the solution and integration they offer for the specific WiFi needs. As a Network Installation company in NJ, we get invited to participate in Wireless implementation project bids for non-for-profit, city, and state projects. Many of our competitors go for untested and reliable solutions to keep the prices down and have a better shot at winning the bid, but they ( and their customers) soon realize that they made the wrong choice. We are WiFi Network Professionals in NJ, we work hard to make sure that we recommend and implement the right solution for your environment, we explain to your the reason why we believe the solution we recommend is the best for your environment, even if that solution is not the most cost-effective upfront, but in the long term, it'll be the right solution to your environment.
We are WiFi, Network, and Information Security Experts providing highly efficient technical solutions to businesses and organizations in New Jersey.
Contact us for details about our WiFi and Network Solutions at 888-580-4450 | www.jdtechsolutions.net | [email protected]