When it comes to WiFi network designs, there's no one size fits all; wireless implementations need to be designed and configured with the users' needs in mind. Installing a WLAN solution that provides a strong signal is part of the solution. The access provided must be sufficient for users to carry their functions in the WiFi network seamlessly. It is much easier to design a WLAN solution when you clearly understand the users and applications requirements, rather than tweaking and customizing an existing WiFi solution for the applications.
We provide WiFi design, implementation, management, and troubleshooting services for companies and organizations in various industries and sectors, including schools, warehouses, distribution centers, medical facilities, hospitality, etc. When these organizations contact us to help them troubleshoot their WiFi network, we find a common denominator that affects the WLAN performance, regardless of their industry. Every SSID in the configuration is broadcasted by every radio of the access points.
You may also like our article about Configuring Meraki WiFi 802.1X authentication using NPS.
Let's say that a company's network design requires five different SSIDs for network access, one for Guest access, another for General Corporate access, another one for Handheld devices, another one for Radios, and one more for Video. If they use a dual access point, each access point broadcast ten SSIDs (five on the 2.5 GHz and five on the 5 GHz band).
In the following example, we have a WiFi network configuration with five SSIDs providing network access, each SSID is routed to a separate VLAN for security and traffic segmentation purposes. The default configuration for most WiFi vendors is to enable and advertise SSID availability on all APs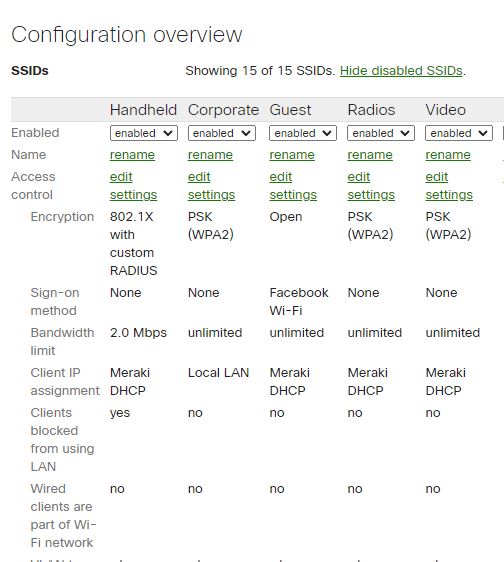 WLAN deployments in corporate environments usually cover large areas, and multiple access points are necessary to provide the proper coverage. When each access point broadcasts all SSIDs, it creates radiofrequency traffic for each advertised network. Depending on the spectrum utilization, it can create radio congestion with the potential of increasing the Noise Floor, interference levels, Co-Channel Interference, and Adjacent channel interference. None of those behaviors are healthy WiFi characteristics, and they may have a significant impact on wireless clients' roaming performance and latency-sensitive applications.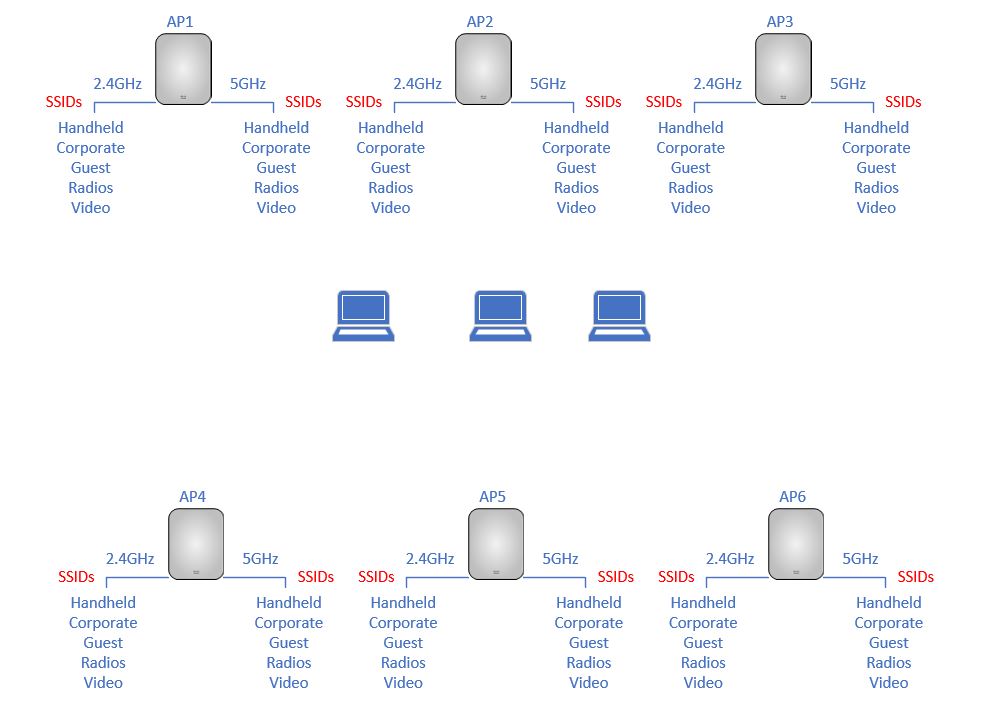 The following network capture displays a busy WiFi spectrum where access points broadcast the SSIDs over the same channels. What we see here is an example of co-channel interference (CCI) and adjacent channel interference (ACI). Due to the high frequency of bands and channel utilization, access points are forced to utilize non-overlapping channels for radio transmission.
Here we can see how the network congestion generates a high level of interference. Although we can't attribute such interference levels only to the SSID broadcast without further investigation, we can say that it plays a significant role.

SSID allocation is essential for proper WiFi deployments.
One of the most effective ways to improve WiFi network performance is limiting the number of advertised SSID. WLAN design best practice recommends limiting SSID advertisement to three per radio, but it is a suggestion to be considered and not a rule. We are wireless experts who have worked on hundreds of WLAN deployments; we recommend the following for WiFi design:
Limit SSID broadcast to three, maximum four SSIDs per radio.
If devices support 5 GHz, only advertise it on the 5 GHz radio.
Use 2.4 GHz only if devices don't support the 5 GHz band.
Plan SSID coverage, only broadcast SSIDs in areas where it is required.
Implement 802.1X authentication; it'll allow you to limit SSID broadcast while routing the access via system attributes and VLANs.
When it comes to WiFi planning, WiFi deployment, and WiFi troubleshooting services, you want to have a company that understands WLAN solutions and their roles in the network infrastructure. Based in Secaucus, NJ, we provide reliable indoor and outdoor Wireless deployments services o businesses and organizations in New Jersey and the Lower forty-eight.
Contact us for details about our WiFi Assessment services at 888-580-4450 | www.jdtechsolutions.net | [email protected]