Professional WiFi Network Installation Services in New Jersey.
We are JDTech, a leading technical service provider company designing, planning, and implementing highly efficient, reliable, and Cost-effective WiFi Network installation New Jersey services and solutions. Our strategic technical vision coupled with our highly skilled technical team set us apart from all other Wireless Network installation companies in NJ by developing resilient and adaptable WiFi installation business solutions. The WiFi network is the spinal cord and backbone of network communication in a business environment, and businesses looking for enterprise-grade WiFi Network installation services in NJ rely on us to deliver WiFi network solutions in NJ that support their wireless communication needs.
We are WiFi experts and the leader of all Wireless Network installation Companies in NJ. We understand RF, Network, and Information Security.
Reliable and Efficient WiFi network solutions in NJ require skilled wireless network engineers, WiFi assessment planning, a deep understanding of networking, and the mastering of RF knowledge. We have over 18 years of Network and Wireless experience providing WiFi network Installation Services in New Jersey and delivering reliable WiFi network solutions to Schools, Business Offices, Warehouses, Medical Facilities, Distribution – fulfillment centers, and retail stores, our solutions are designed for your specific needs and requirements. As Wireless experts, we understand that many businesses don't have a dedicated WiFi Network team to properly plan and implement a WiFi solution, that's why they look for reliable Wireless network installation companies providing WiFi Network installation services in NJ that can help design entepreside-grade WiFi solutions to support their office users. Our WiFi network solutions in New Jersey services provide the flexibility to rapidly adapt to your network infrastructure changes. From setting up new Wireless Sites in hours to keeping network security while offering BYOD services, to increasing Wireless network bandwidth to support 4K broadcasting, you can count on our Wireless and Network expertise to deliver a WiFi solution that is right for your environment.
Dedicated Professional WiFi Network Installation Services and Solutions in NJ.
Based out of Secaucus, NJ, we are the most skilled and reliable of all Wireless network Installation companies in New Jersey. We provide WiFi installation services in NJ, NY, CA, FL, PA, and WA. We implement network, security, and WiFi solutions from the leaders in the technical world to ensure that WiFi network solution addresses your unique needs are requirements, be it budget, compliance, security, or infrastructure integration. Our partnership status with Cisco, Meraki, Cambium Networks, Extreme Networks, Aruba, SonicWall, Sophos, Fortinet, Ruckus Wireless, Proxim, Ubiquiti UniFi, Netgear, and EnGenius solutions allows us to design and create a customized network and wireless network for your business environment.
Here at JDTech, we understand that the WiFi network must be resilient and secure without compromising performance.
Most of their WiFi deployments include the broadcast of multiple SSIDs to provide Wireless services without much planning, this type of solution can address the immediate need for Wireless communication but it can also create more network problems. It is common for organizations to create WiFi networks to address their unique network connection needs. For instance, Warehouses and Distribution center WiFi deployments may have SSIDs for different types of devices on the floor; standard configurations include SSIDs for WiFi-enabled printers, SSIDs for employees, SSIDs for Guests,  and SSIDs to different kinds of handheld scanners, etc. A Wireless Network for a school may have SSIDs for Students, an SSID for teachers, SSID for administrators, SSIDs Guest, Labs, etc. One of the many mistakes of inexperienced Wireless network installation companies in NJ is that they believe that a strong Wireless radio signal is enough to have reliable WiFi Network Solutions in NJ, a strong signal broadcast does not necessarily mean proper WiFi coverage.
Your business needs uncompromising WiFi Network Solutions and Services to help your office and remote workers connect and collaborate.
Reliable and Smart Wireless network Installation companies in New Jersey require highly skilled WiFi, Network, and Security Engineers that can align technical solutions services to your unique Wireless communication needs in a seamless way in your organization. We have a methodical approach to WiFi planning that first includes the understanding of your wireless needs, performing a Wireless assessment of your facilities, and aligning network and wireless solutions to the specific needs of your users and network applications. Designing a flexible and reliable WiFi solution that integrates and support your network infrastructure requires the planning and expertise of Wireless installation companies in new jersey that understand Radio Frequencies and all the network components and services involved in the configuration.
We are a New Jersey WiFi Installation Company dedicated to providing highly efficient, smart, and cost-effective Wireless network solutions.
WiFi networks are implemented to support wireless business connectivity needs for specific applications and devices. It's easier to design a Wireless Network for specific business needs than to change an existing Wireless Network configuration to address a new business need. That is why as a Wireless network installation company in New Jersey we spent time in the planning stages to make sure we clearly understand the wireless connectivity needs.
Performing a Wireless Network Assessment.
Professional WiFi network implementations require the WiFi network Solutions in NJ company to perform a Wireless Network Assessment to evaluate the many components that make up the network infrastructure to ensure they support the new WiFi network, the assessment includes the evaluation of routers, switches, data cabling, PoE switch budget, and the physical layout of the proposed WiFi area. The Assessment or Wireless Survey helps generate a heat map that will theoretically indicate the Access Point locations for the wireless deployment.
A WiFi spectrum analysis is analogous to an MRI, an MRI creates detailed images of the body structure. In the same way, a WiFi spectrum analysis also creates a detailed view of the WiFi spectrum, and the information is used to understand the WiFi performance and diagnose connection issues.
WiFi Network Installation Services in NJ – Smart, Reliable, Resilient, and Cost-Effective WiFi Solutions.
We work with the leaders in the WiFi and Network realm including Cisco, Meraki, Aruba, Extreme Networks, Cambium, and Ubiquiti UniFi solutions. Our goal is to offer you a WiFi network plan that implements the best technology solution for your organization and Wireless connection needs and offers the flexibility to adapt to future changes without infrastructure changes. When looking for a reliable and knowledgeable WiFi network installation company in New Jersey, you want to make sure they have a proven track record of designing and implementing real Wireless solutions, not only a company that recommends and installs Access Points. JDTech is your WiFi network installation service in NJ company dedicated to recommending, implementing, and supporting the most advanced and reliable WiFi Network Solutions.
Indoor, Outdoor, and Point-to-Point WiFi Network Installation Services in NJ.
WiFi network design and technology change depending on the type of implementation. Indoor WiFi networks require a WiFi assessment to evaluate many networks and physical components including the physical location for the proposed coverage area, the building materials, switching capacity, and estimated number of concurrent wireless network clients. Outdoor WiFi deployments require the WiFi Network Solution in NJ company to understand how atmospheric channels affect the radio frequency, the best radio band and channels for the deployment, radio frequency signal propagation. And the Point-to-Point Wireless network solution requires the understanding of the licensed and unlicensed bands, the Fresnel zone, line-of-sight, and signal propagation. Our WiFi Network Installation Services in NJ offers a complete Wireless network experience
Wireless Installation Services for Schools in New Jersey.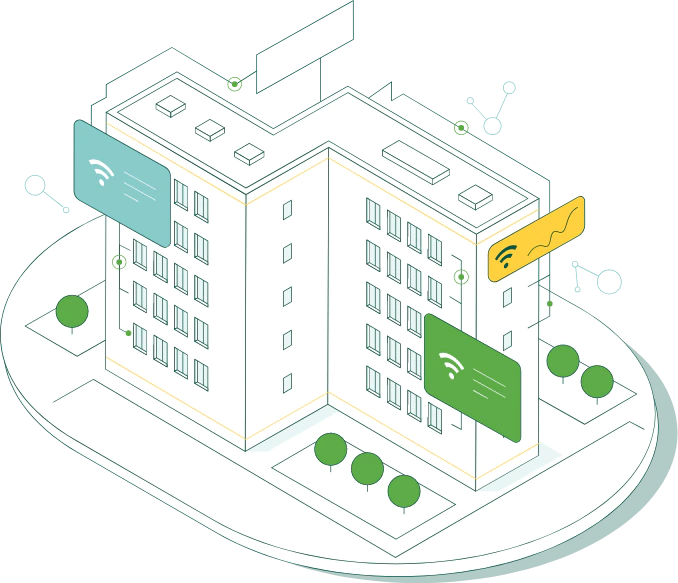 We understand the challenges of implementing reliable, secure, and cost-effective WiFi solutions for schools and universities. We have extensive experience planning, deploying, and managing WiFi installation services for schools that support students and faculty functions. Our WiFi network installation Services New Jersey services are designed to help education institutions provide reliable, resilient, and adaptable WiFi network services. We can help you through the E-Rate program process to make sure you implement a state-of-the-art WiFi solution that is going to support your educational goals while facilitating a reliable and secure Wireless Network connection to students. As the leader of the Wireless network installation companies in New Jersey, we provide Wireless and IT support services to public and private schools in the tri-sate area.
WiFi Best practice.
We are the leader in the planning, implementation, and support of WiFi Network Installation Services NJ. As a WiFi expert, we have developed a simple set of best practices that can help you in the support and implementation of your WiFi Network deployment. With that in mind, keep the following WiFi best practice list in mind when deploying multi-SSID environments. 
Only enable an SSID on an AP if needed.
APs whose coverage areas overlap should not be on the same channels.
Consider Adjusting AP Radio power settings.
We're JDTech, a wireless installation company in New Jersey providing highly efficient, resilient, and cost-effective WiFi and Cyber Security Solutions. We help businesses and organizations in the design, planning, implementation, and support of WiFi solutions.
Contact us at 888-580-4450 | www.jdtechsolutions.net | [email protected] for more information about our wireless services and solutions.